FEATURES PDF
TAIL CONTROL has been developed in collaboration with veterinary doctors of north Italy.
The product shows great efficiency, ease of use and duration of actions.
The mechanism of action is based on all the sense highly developed of taste and smell of pigs for cancel the desire to bite.
TAIL CONTROL acts on two very sensitive centers of perception of the animal
Taste: has been inserted into the product a substance considered among the most unpleasant known. This substance is safe for the pig but it is also disgusting too.
Olfaction:has been inserted into the product a disgusting food flavoring for the pig. So after first treatment, the pigs, recognize the smell and they learn that if they continue in their efforts to bite also feel the disgusting taste too, much more annoying.
TAIL CONTROL also contains a sanitizer for cleaning and sanitation of injuries on tails and ears of animal bitten. The product permit easy identification of pigs that have received the application, because the treated area appears blue for the presence of a cosmetic grade dye.
TAIL CONTROL is available in convenient spray bottle of 400 ml equipped with a specific device for easy handling and use.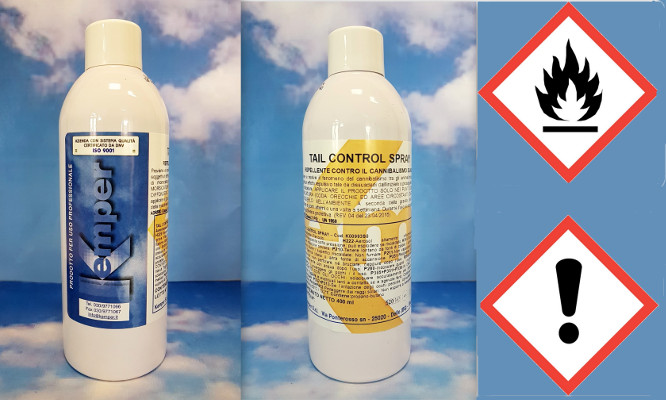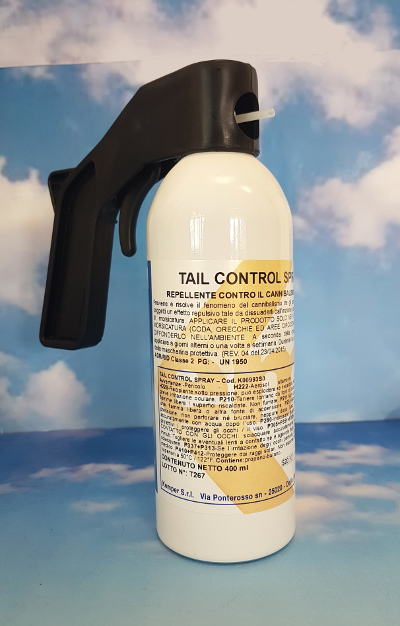 CHEMICAL/PHYSICAL DATA
Physical state: spray
Color: dark blue
Odor : garlic
Water solubility : full
MODALITY OF USE
Apply product on all parts subject to bite, especially on the tail (including the surrounding area) and ears. Product has excellent residuality.
Frequency of application depend on veterinary instruction and the severity of problem. At the beginning of treatment to treat animals on alternate days and then reduce the treatments when the problem is being resolved.
TAIL CONTROL SPRAY does not cause harm to the animal or the meat and is also effective for other animals (chickens, turkeys, etc.).
Apply the product only on the points bitten avoiding to spread in the environment.
TAIL CONTROL SPRAY is applied from a distance of about 50 cm
Is recommended to use only spray application to prevent the transfer of infection between animals. Store in original closed containers.