FEATURES PDF
DIMET products contain dimethylpolysiloxane and are multi-purpose: they lubricate, protect and boast strong anti-adhesive properties. The substances contained in them are totally inert with regards to metals and materials on which they are applied and carry out their action at a temperature that ranges from -40ºC to +250ºC, and they are low toxic.
They reduce friction and static electricity

They do not harden and do not dissolve even at extreme temperatures

They are odourless and do not yellow.

They are non toxic.
USES
In the packaging sector in general, they are applied on packaging machines, slides and sliding surfaces.
In the graphic industry, on sewing machines, bending machines, collecting trays, cutters.
In the footwear sector, they are used on sewing, glue spreading and shearing machines.
Plastic, rubber, and furnishing sector.
AVAILABLE VERSIONS:
DIMET S
Solvent-based product consisting of a silicone oil solution in isoparaffinic solvent and additives. Its flashpoint is at 60ºC and must be applied through spraying using air or airless equipment. It can be used as lubricant, protective and anti-adhesive product.
PHYSICAL- CHEMICAL DATA (DIMET S)
Aspect: liquid
Colour: colourless
Odour: odourless
Density: 0.8 gr/cc
Viscosity: 1.6 mm²/s (25ºC)
Flammability: +60ºC
Code: K0010100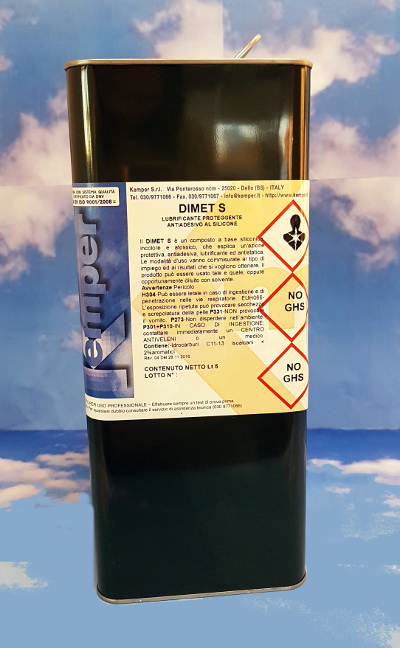 DIMET A
Concentrated silicone oil emulsion in water. It is non-flammable and highly soluble in water, based on the specific needs. It is ideal for all those applications where the presence of solvents is not recommended.
Excellent for sliding the electrical wires during installation in the ducts.
PHYSICAL- CHEMICAL DATA (DIMET A)
Aspect: liquid
Colour: milk white
Odour: odourless
Density: 1
pH: 4.8 – 5.2 (1% sol.)
Flammability: non flammable
Code: K0010500