FEATURES PDF
SEVEN PLUS is a penetrating oil that releases nuts, bolts and coupling without damaging the metal. The product is able to penetrate inside gaps which are difficult to reach, and quickly dissolves layers of rust, tar, carbonaceous deposits, graphite and corroded layers. It quickly and effectively penetrates inside coupled parts or among threads, releasing and lubricating any seized or rusted surface. The product boasts double action.
It dissolves and eliminates all those substances that seize sliding surfaces between each other

It creates a lubricating film among layers that favours sliding and allows disassembling the components without damaging them.
The utmost efficacy and quick action of the product make it irreplaceable in numerous sectors:
Hydraulic works

Automotive

Railways

Agricultural machinery

Gas and steam pipes

Naval industry

Aeronautical industry
METHODS OF USE
Spray the product on the component to disassemble and leave it on for a few minutes in order to be effective. Even if the bulk product is highly penetrating and able to reach innermost points thanks to its widespread distribution, we suggest using the convenient and low-cost spray bottle for more complex equipment.
In case of small objects, we recommend immersing the entire part in a tray containing the liquid product. SEVEN PLUS is available in bulk and in 400 ml spray bottle to solve any dissembling problem, quickly and safely.
PHYSICAL- CHEMICAL DATA (bulk)
Aspect: liquid, clear
Colour: amber
Odour: light
Density: 1.05 Kg/lt (20°C)
Flammability: non-flammable
Code: K0011100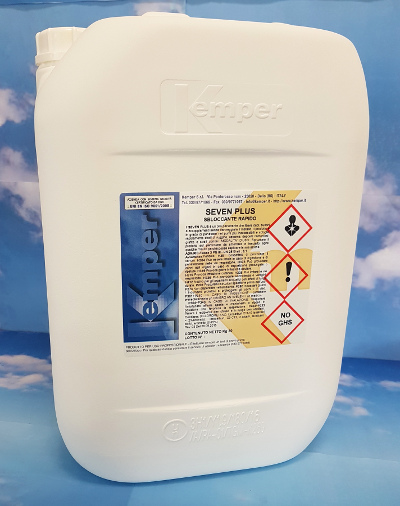 PHYSICAL- CHEMICAL DATA (spray)
Aspect: 400 ml spray bottle
Colour: light brown
Odour: perceivable/ typical
Density: 0.675 gr/cc
Flammability: +240°C (calculated)
Pressure: 4.5 – 5.5 bar
Vapour pressure: 2.1 hPa (calculated)
Code: K00112S0