FEATURES PDF
Semisynthetic refrigerant lubricant, with medium mineral oil content.
It combines cleaning and detergent properties of synthetic products with properties lubricants for high mineral charge products.

It finds correct use in cutting and grinding operations on cast iron products and various types of steel, poth on single machines and CNC machines.
It forms emulsions stable over time, with a strong anti-rust effect and low foam formation. It is also a feature that allows it to be used on very high pressure working cnc.

It tolerates water with extreme hardness (recommended water hardness 13 ° - 85 ° F).

There are specific additives in the formulation that reduce the usury of the tool and prolong its durability.
CHEMICAL-PHYSICAL DATA
Colour: amber
Density: 1,01 a 15°C.
Viscosity: 36 cSt a 40°C
pH: 9.4 (Sol 3%)
Refractometric index: 1,9 (°Brix).
TABLE OF USE
| | | | |
| --- | --- | --- | --- |
| Operation Material | Cast Iron | Steel at C | Alloyed Steel |
| Generic | 4% | 6% | 8% |
| Medium | | 7% | 9% |
| Heavy | | 8% | 10% |
HOW TO USE
The product is suitable for the following operations:
Boring –Threading – Drilling - Milling –– Internal grinding – Tapping - Throwing – Cutoff
Before renew the tank with fresh emulsion, it is recommended a complete cleaning cycle of the entire system and all parts that will come into contact with the product.
Add the quantity of required product to the water by stirring or using the appropriate mixer on the desired percentage.
For good emulsion maintenance, it is recommended to periodically measure the total bacteraic count with the MINIKIT SLIDE and intervene if necessary with antibacterial.
Eliminate regularly, with absorbent cushions or automatic disinfectants, the excess of lubricating oil that can contaminate the emulsion.
Do not mix with other emulsions refrigerant lubricant types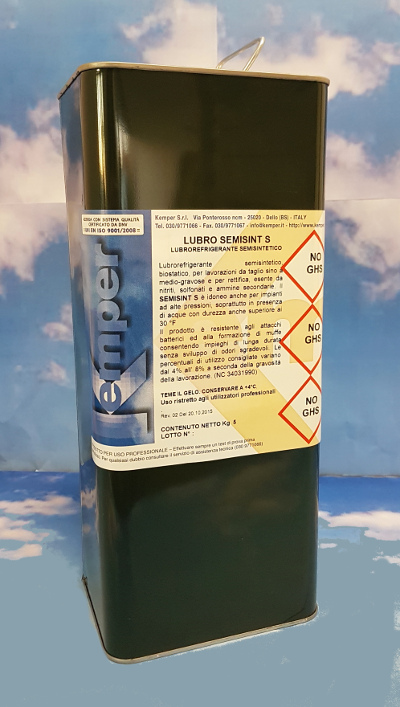 .