FEATURES PDF
Specific product for the cleaning of shiny or satin-finished metal surfaces from fingerprints, grease, markers, paints, smog, dust and processing residues.

Safe and economical. It doesn't contain components or additives that could damage, stain or opacify the treated surfaces.
The product, in a 400 ml aerosol can, is ready to use and allows countless applications.

Detergent and rinse aid. It immediately acts on processing residues (polishing pastes), on various greases, on fingerprints, on tracing and paint residues. Leave the surfaces perfectly clean and bright.
Protective and lasting. A microscopic protective film acts as dustproof and from
antioxidant and protects surfaces from stains, dust, fingerprints and corrosion.
The treated surfaces remain perfectly polished for a long time.


It is recommended to spray the product on a clean cloth and to evenly pass over the affected area. Then revise with a clean and dry cloth to enhance the shine.
APPLICATIONS
The product can be used on any metallic surface, glossy or satin.
It is specific for stainless steel, but can also be used on aluminum, chrome, brass, copper and light alloys surfaces.
The FORMAT INOX is used in
food companies, hospitals, restaurants, canteens, hotels, and steel equipment manufacturing factories
to clean and polish:
various machines, food processing plants, kitchens, refrigerators, elevators, sinks, bar counters.
FORMAT INOX, loose and spray, are produced with raw materials that satisfy the degree U.S.D.A. H1 due to accidental contact with food.
It is therefore recommended not to use the products on surfaces in direct and continuous contact with food.
SPRAY
CHEMICAL/PHYSICAL DATA
Physical state : Aerosol (400 ml)
Color : colorless
Odor : odorless
Density : 0.8 ± 0.05
Propellant : Propane-Butane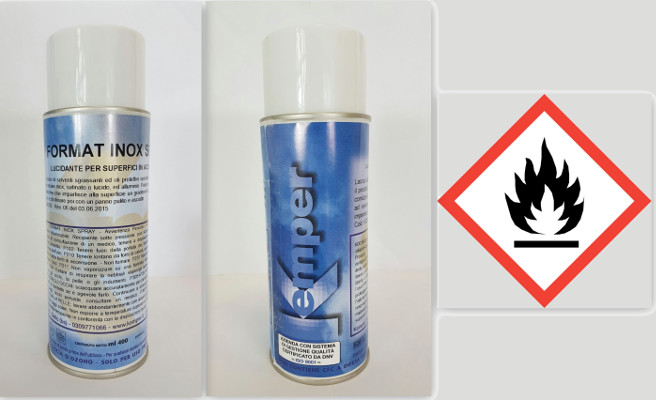 LOOSE
CHEMICAL/PHYSICAL DATA
Physical state : Liquid
Color : colorless
Odor : odorless
Density : 0.8 ± 0.05
Packaging: : C1*-5-30-60
Packaging C1*: 12 Bottles+2 sprayers